January 10, 2014

Vinnie's

2045 Mount Diablo Street
Concord, CA
9 PM
We can't stay away from the East Bay for TOO long - we'll be kicking off 2014 with a headlining show at Vinnie's, joined by our good friends the amazing Travis Larson Band! It's the first of two shows we have with them in January, and we're incredibly happy - we love playing with them!
Opening the night will be East Bay favorites Jungle Rooster!
January 21, 2014

Brick by Brick

1130 Buenos Avenue
San Diego, CA
6:30 PM
Oh boy...time to bring our "A" game - we have the honor of opening for a real musician's musician act, The Aristocrats. Featuring Guthie Govan, one of the greatest guitarists on the planet today, along with the incredible Marco Minneman on drums, and the uber-talented Bryan Beller on bass. We're not just pleased to be on the bill - we're big fans too!
Also on the bill, our amazing friends The Travis Larson Band!
We'll be opening the night, and since it's a school night the show is early - doors at 630 PM and we'll be on by 7!
Discount advance tickets are available only from
our store
!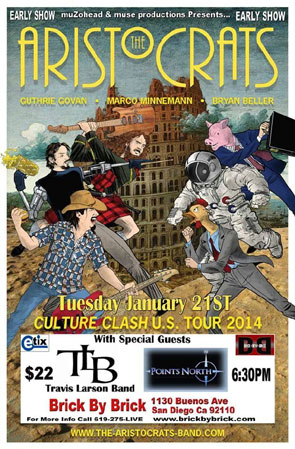 January 22, 2014
Brick By Brick
Fred Barchetta: A Points North Tribute to Rush
The second night of our two night stand at Brick By Brick just prior to NAMM...by popular demand, we're bringing back our "Fred Barchetta" set - a tribute to RUSH by Points North to our wonderful friends in San Diego. As always we'll be joined by the lovely Kristina VanAmburgh on vocals, playing a full headline set of Rush songs.

And since it's also on a school night, it'll be an early start - doors at 7 PM! Come spend your evening with us; hope to see everyone there!
January 27, 2014
Ramona Mainstage
We'll wrapping up our trip to SoCal and NAMM by opening for one our favorites, the legendary Uli Jon Roth, at one of our favorite venues - Ramona Mainstage (where we were last seen opening for the Winery Dogs). Uli will be playing a full early Scorpions set, and will be joined by Scorpions member James Kottak for the first time on a US tour!

Also on the bill will be our good friend John Huldt.

Discount advance tickets are available only from our store!